Pocket Quicken 2.5 is Classic Certified and thus will run and sync on a Palm Pre if you have first installed the Classic v2.0 software from MotionApps.
1. Download Pocket Quicken version 2.5 from http://www.landware.com/pq and perform the installation on your PC.

2. When the Installation Wizard asks you to choose Installation Type make sure to choose option "Typical" or else Pocket Quicken conduit will not be installed.




NOTE: To be able to select this option you do need to have Quicken previously installed on your desktop. Pocket Quicken is compatible with: Quicken 2004 through 2010.

3. After Pocket Quicken setup is complete, please download the official Classic Approved Palm OS file: PktQuicken_2.5
After you download this file, open it to send to HotSync manager so that this version of the app gets installed in Classic the next time you perform a HotSync operation between Classic and your PC.

4. Once Pocket Quicken is transferred to Classic you should see its icon on Classic's launcher screen:



Tap on the icon to launch the application.

5. When installation wizards ask you if you plan to synchronize Pocket Quicken with Quicken on your laptop/desktop tap on "Yes, synchronize with Quicken" option.





Now you are ready to sync with Quicken!

6. Open HotSync Manager -> Applications and make sure Pocket Quicken conduit is enabledd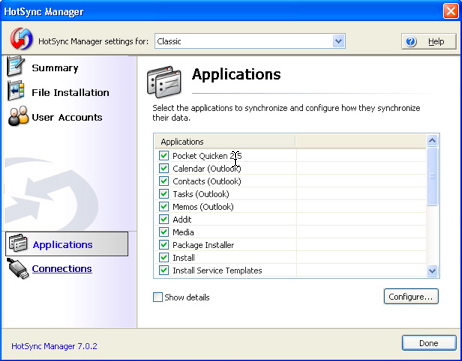 7. Launch Classic on the Palm Pre and initialize HotSync operation

NOTE: Close Quicken on your computer prior to initializing HotSync.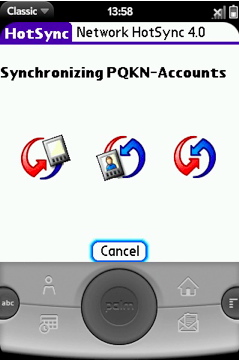 You can define which elements will be transferred to and from Pocket Quicken if you open application menu and choose Options -> Preferences -> Sync.

As you cannot send accounts from Pocket Quicken to your desktop, transaction will not be transferred to Quicken unless you have the account this transaction belongs to in Quicken. This is why it is suggested to create accounts in Quicken and perform HotSync operation prior to entering data in Pocket Quicken.

If your HotSync operation returns errors, check the HotSync log for further information.